CestBeauLePouvoir (FR)
Month of Performance Art – Berlin 2013
Crossing Context Neukölln
May 2nd – 14th 2013
GENDER AND THE CITY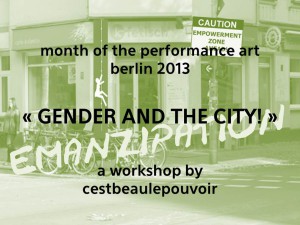 SITE-SPECIFIC WORKSHOP 
Thursday May 2nd until Monday May 6th 2013, 11:00-17:00
Meeting point: k- fetisch, Wildenbruchstraße 86, 12045 Berlin Neukölln
To sign up please email: pascalelapalud@genre-et-ville.org
POST WORKSHOP DISCUSSION AND INSTALLATION 
Wednesday May 8th 2013, 19:30
At kunstraum t27, Thomasstr. 27, 12053 Berlin Naukölln
GENDER AND THE CITY
Site-specific workshop
In English
During a five-day workshop, urban designer Pascale Lapalud and sociologist Chris Blache invite interested participants to investigate the public space of Neukölln from a gender perspective. Taking their starting point from the fact that the city is for the most part male created and male occupied, the aim of the workshop is to look at new strategies for female players within the city space.
___________________________________________________________________________
Post workshop discussion / installation
In English
CestBeauLePouvoir in collaboration with workshop participants will present material collected during the five-day Neukölln case study using the mediums of sound and video recordings, photos and drawings. A parallel workshop took place in the 20th arrondissement in Paris this spring and the discussion will revolve around an examination of the differences and the similarities between the two neighborhoods.
CROSSING CONTEXT NEUKÖLLN – MPA-B 2013
 
"Crossing Contex Neukölln" is curated by the Danish artist Camilla Graff Junior and is based in the neighborhood of Neukölln. The program examines the notion of "interventions through artistic research" and will run from 2013 until 2015, finalizing in a symposium.
The 2013 edition presents a series of eleven works by artists and activists from Denmark and France: Allio –Weber, Boris Azemar, Bailly Blo and Layla Torres Mollerup, CestBeauLePouvoir, Christine Dilmi, Giraff Graff, Magda Mrowiec, Sara Hamming, Ellen Vestergaard Friis and Vinyl Terror and Horror.

Produced by Giraff Graff and co-produced by Kunstverein Neukölln / kunstraum t27.
Supported by Danish Arts Council and Kulturamt Neukölln – Dezentrale Kulturarbeit.

Program:
http://www.facebook.com/events/223710587768826/
http://www.mpa-b.org/camilla-graff-junior.html