Pascale Lapalud Urban-Designer, Geographer, Designer.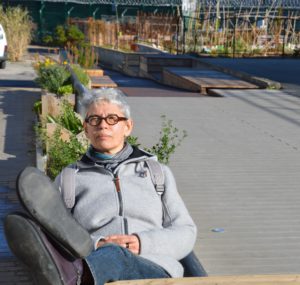 After graduating in political sciences, geography, geo-architecture and urban design, Pascale has co-directed her own « urban design / interior design » creation and consulting agency for 15 years.  She  co-founded and is co-animating the organization Genre et Ville.
She has many talents as a creator, has designed furniture and objects, created visual campaigns, elaborated and animated exhibitions and interactive performances, and is always cooking new ideas…
She is a founding member of CestBeauLePouvoir and as such has initiated a number of projects, among them "L'Eternel Masculin" and the "Petite Ceinture" series.
Always on the lookout for innovative ideas, « Step out of the frame and think! » is probably what defines her best.
Chris Blache Social Researcher, Urban Anthopologist.
Chris, an urban anthropologist, co-founded Genre et Ville in 2012 with urban designer and planner, Pascale Lapalud.  She studied Psychology at Paris' University, graduated from the Conservatory of Music in Brooklyn New York.  Back in France, she obtained an MBA degree at ESCP/EAP, Paris.  She created and managed 9A+ Consulting from 1997 to 2012. An accomplished business and socio-ethno consultant with proven success and expertise in international market research and business innovation she is actively involved in women and LGBTI rights since 2008.
Co-Executive Director of Genre et Ville, she manages the organization and the projects.
She is a founding member of CBLP CestBeauLePouvoir and as such has initiated a number of artistic projects, among them "Forever Male!" and the "Petite Ceinture" series.
A good definition for Chris would be: Energy, Empowerment and Innovation.
Eloïse Kling, Architect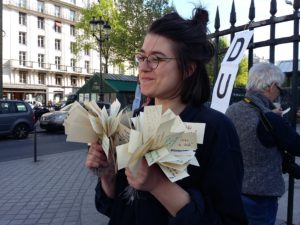 Eloïse is an architect who majored in community organizing project management.  She has a special interest in children projects in the public space.  Her skills, curiousity and thoroughness make her an invaluable partner.